Have you seen the trending Coca Cola survey video? It is about taking a customer satisfaction survey on social media. Beweare its a scam! It is one of the scam trending social earning platform/Process. That claim you can become a $200 or $800 per survey. Online users are advised not to visit the website let alone create account.
Coca Cola Survey On Decocash: How The Website works
Decocash.com, is a spam and scam website whose purpose is to use a fake Coca Cola customer satisfaction survey to trick visitors into participating and if they participate they can get $200. But all this fraudulent website (decocash.com) does is redirect visitors to spam and survey websites that trick visitors into buying unwanted goods/services or send their personal information to scammers who use it fraudulently.
The Coca Cola Survey scam survey video is a fake social earning process that is used by online scammers to trick online users by tricking online users to do a survey. The plat forms promise users certain amount of money for a little survey. Doesn't it sound suspicious? It definitely looks to good to be true! The scammers tend to trick potential victims into visiting spam and untrustworthy websites. The platform tells you to invite others to by sharing links with the aim of getting more subscribers. Unfortunately, After all these are made on decocash.com website, Payment becomes pending and users are unable to withdraw their money. Beware! Do not be deceived.
Scam Format: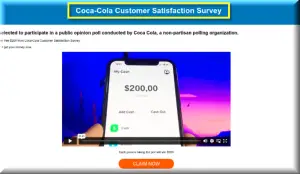 Conclusion:
From our research, It is is obvious that Decocash.com is not a genuine social earning platform just like many other scam websites. Online users are advised not to visit or invest on the website. Have you in invested on this website? Or similar website? Do well to share your experience with us in the comment section.