Do you want to upgrade your car to reduce fuel consumption? Do you want to buy Fuel Save Pro? Are you wondering if this product is worth your money? This review is an eye opener for you to make the right decision.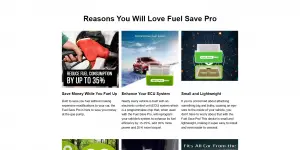 Fuel Save Pro: What Is It?
Fuel Save is a portable technological device that claims to reduce fuel consumption in car by 35%. This device reduces fuel consumption by fine-tuning the engine control unit (ECU), ensuring optimum engine performance.
This portable fuel saver seems nice right? Read to know more about Fuel Save Pro. 
Features:
Save Money While You Fuel Up:
Built to save you fuel without making expensive modifications to your car, the Fuel Save Pro is here to save you money at the gas pump.
Enhance Your ECU System
Nearly every vehicle is built with an electronic control unit (ECU) system which is a programmable chip that, when used with the Fuel Save Pro, will reprogram your vehicle's system to enhance its fuel efficiency by 15-25%, add 35% more power and 25% more torque!
Small and Lightweight
If you're concerned about attaching something big and bulky, causing an eye-sore to the inside of your vehicle, you don't have to worry about that with the Fuel Save Pro! This device is small and lightweight, making it super easy to install and even easier to conceal.
Easy to Use
This device is easy to install. Just follow the quick and easy 6-step list of instructions and go! Locating the OBD2 port in your vehicle can easily be found through either your vehicle's user manual or on the instructional panel within the Fuel Save Pro packaging.
Help Fight Against Climate Change
By lowering your fuel consumption each time you fill at the gas station using the Fuel Save Pro, you are actively doing your part to decrease the harmful carbon pollution caused by transportation!
Strong Compatibility
The Fuel Save Pro fits nearly all vehicle make and models from the year of 1996 or newer.
Claimed Benefits:
Safe & Easy to Use
Save Money at the Gas Pump
Help Fight Against Climate Change
Increase your Vehicle's Horsepower & Torque
How To Install And Use This Fuel Saving Device:
Fuel Save Pro Installation Guide
This is the step-by-step installation guide of Fuel Save Pro for any vehicle compatible with an OBD-II port.
1.    Turn off the engine and pull the car key out of the ignition. If you're using a keyless ignition, turn off the vehicle.
2.    Find the OBD-II port in your car (usually under the dashboard) and connect the Fuel Save Pro device to it.
3.    Insert the key into the ignition and turn it on to the first ignition stage (Accessory) without turning on the vehicle yet.
4.    Press the Fuel Save Pro reset button for at least 6 seconds and release. Now, wait 45-60 seconds to allow the device to establish communication with the ECU.
5.    Now, you can fully start up the engine.
6.    Fuel Save Pro will study your driving habit, which will take about 150 miles to do so, after which it will adjust to match your car and start saving you on fuel usage.
How Much Is Fuel Save Pro?
1 unit – $49.99
 2 units – $89.98
 3 pieces – $119.98
 4 – $139.97
How Long Does It Last?
Fuel Save Pro controls power consumption which allows drivers to save money. There is also a report that the device has strong compatibility, it works on all types of vehicles. It can work on an SUV, or a truck, and more.
Best Fuel Saving Device Are:
FIXD.
ProEco Fuel Saver.
Fuel Fix Pro.
EcoTune.
EZ Fuelsaver Pro.
Eco OBD2 Fuel Saver.
OptiFuel Fuel Saver.
EcoRide – Smart Energy Plug.
Conclusion:
From our findings, Fuel Save Pro appears to be a legit fuel saving device for your car. Although there are no customers reviews found online and this device is sold only on its official page (offer.getfuelsavepro.com). We can't vouch for its authenticity. Read our complete product reviews to know more about scam products. Did you buy this drone? Or have ordered for a similar product? Please do well to share your experience with us in the comment section.