This website is located at Al.usdtan.com is one of the trending social earning network. Online users are advised not to visit the website let alone create account.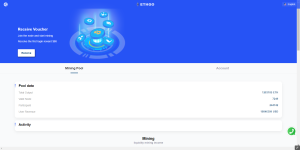 Al.usdtan.com: How The Website works
The Al.usdtan scam website that is located at Al.usdtan.com is a fake crypto mining website that is used by online scammers to trick online users by tricking online users to do a survey. Before you can start mining for crypto, the website says you need to pay for ETH miner's fee in order to receive the voucher and an ETH wallet after which mining permission will be open. Doesn't it sound suspicious? It definitely looks to good to be true! The platform tells you to invite others to by sharing links with the aim of getting more subscribers. Unfortunately, After all these are made on Al.usdtan com website, Payment becomes pending and users are unable to withdraw their money. Beware! Do not be deceived.
How To Join?
To participate in non-destructive and non-guaranteed liquidity mining, you need to pay an ETH miner's fee to receive the voucher, and an ETH wallet address only needs to be claimed once. Automatically open mining permissions after success
Negative reviews were left online by those who had fall pry to Al.usdtan com fake mining site. Below is a review by one of the victims-
They are scammers, don't trust and don't put any money in.
I was scammed for a lot of money
The revenue is high but and seems working than in a second you find your wallet totally drained

They have assistance but asking always money to get yours back

I was so stupid … don't absolutely trust !
Conclusion:
From our research, It is is obvious that Al.usdtan.com is not a genuine social earning platform just like investment websites like Ezifund, Top target, usdtqmark, usdtkcoin, ustdlonim, Polarisbitlimited, Uschltd, Cryptomip. Online users are advised not to visit or invest on the website. Have you in invested on this website? Or similar website? Do well to share your experience with us in the comment section.