Have you been using the traditional method to remove ice from your car? Or are you looking for a better and easiest way to remove ice from your car? Did you come across Seurico Snow Removal? Are you wondering if this product is worth your money? This review is an eye opener for you to make the right decision.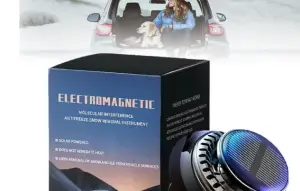 Seurico Electromagnetic: What Is It?
 The viral Seurico Electromagnetic Molecular Interference Antifreeze Snow Removal Instrument that claims to remove ice from cars effortlessly. This device is being promoted on Facebook and its said to harness advanced electromagnetic principles to keep vehicles free from ice and snow, all while being conveniently sized like an air freshener. Seurico Electromagnetic Snow Removal Can Causes the Air Molecules to Move Violently and Generates a Large Amount of Energy, Thereby Achieving the Remarkable Phenomenon of No Ice Inside and Outside the Car.
What do you think of this device? Can a device of this size work as effective as it claims? Read more to know everything about Bikenda Electromagnetic Snow Removal.
How Does Seurico Electromagnetic Molecular Interference Antifreeze Work?
According to it's official website, it is said to use sophisticated technology known as Electromagnetic Molecular Interference to activate and accelerate  the molecular motion of ice and snow in contact with the car body, which will result to rapid melting. By emitting electromagnetic energy in a special composite frequency band, the device supposedly targets only the snow and ice, ensuring that there's no radiation and no side effects either on the car materials or the human body.
How Does It Works?
On the website marketing it, it claims to uses microwaves that are similar to the vibration and rotation frequency of water molecules can affect the physical properties of water molecules, so that water molecules can still vibrate actively at the freezing point, thereby realizing the phenomenon that water does not freeze.
Pros Of The Product:
Cons Of Seurico Snow Removal:
Quite pricey
There are no reviews online about Seurico but there are many Negative reviews online about Bikenda
False advert
Should You Buy This Product?
No! Securico is a total trash according to customers who bought it. Saying that it's just like a child toy and does not work as advertised. It's just a diffuser and nothing more. It was formerly called Bikenda.
Conclusion:
From our findings, Seurico Electromagnetic Molecular Interference Antifreezethat claims to be a Deicing Instrument is a total a scam with negative reviews online. The only positive customer reviews found is no the website marketing the product. As a result, we can't vouch for its authenticity just like Bikenda. Read our product reviews to find out other products. Buyers are advised to take caution. Have used this product or similar product? Please do well to share your experience with us in the comment section.