Do you want to buy portable A.C? Are you considering buying Chiller Portable AC on its official website (Chillerportableac.net)? Don't do so yet. This reviews exposes all you need to know about the Compact Cooler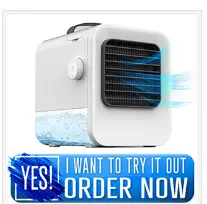 What Is Chiller Portable AC:
Chiller Portable AC is a portable Air Conditioner that uses electricity and can be carried about and can be used at home or in your office.
The Chiller Portable AC is a portable air conditioner designed to provide instant mist cooling, purify the air, and add back moisture to the air, keeping your skin hydrated. It's an all-in-one solution to keep your living spaces cool and comfortable. It uses Evaporative Cooling Technology that employs water or ice to provide effective and instant cooling
How It Works:
Chiller Portable AC claim to use breakthrough Evaporative Cooling Technology to provide cooling. It is said that the AC takes in hot air and uses chilled water or ice in the mini leak-proof tank to cool it, then releases ice-cold or temperature-controlled air.
Step On How To Use The AC:
Add water to the large capacity leak-proof tank
Power on the portable AC to enjoy instant cooling
Select your preferred fan speed and cooling mode to enjoy clean and pure air.
Claimed Features Of The Air Conditioner:
Multi-Functional
Lightweight and Portable
Noise-Free Operation
High Efficiency
Is Chiller Air Cooler For Indoor Only?
The Chiller Portable AC isn't just for home use. Thanks to its compact size, lightweight design, and USB power source, it's just as effective for outdoor use. Whether you're on a camping trip, enjoying a picnic, or working in an outdoor office space, this portable AC ensures you remain cool and comfortable. Its noise-free operation and long-lasting battery life make it an excellent companion for any outdoor activity.
Cons Of The Air Conditioner:
There are no Customers Reviews Online
Due to the size it may not be as effective as advertised
Pros Of The Air Conditioner:
Portability
Currently there is 60% discount although the discount looks to good to be true
Low Power Consumption
Conclusion:
Chiller Portable air condition do not have customers reviews and has a result the legitimacy is questionable. This AC cannot be recommended by us just like Hurricane AC. Did you buy this product? Or similar product? Please do well to share your experience with us in the comment section.