Do you want to buy portable A.C? Are you considering buying from Hurricane Freeze? Don't do so yet. This reviews exposes all you need to know about the Compact Cooler
What Is Hurricane Freeze: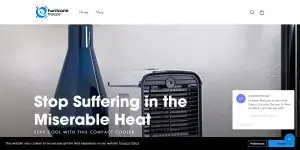 Hurricane freeze is a portable Air Conditioner that uses electricity and can be carried about. The personal Air Conditioner has 2.6 out 5 rating on Amazon
Features Of The Air Conditioner:
Ultra Quiet
Blows Cool Air
Eco Friendly
3 Fan Speed
Purifying Humidifier
Safe Money On Electricity
Cons Of The Air Conditioner:
Customers Complaints:
Many customers gave 1star rating. The negative reviews by customers clearly shows that the A.C is not worth buying. Below is a review by a customer.
I was looking for a way to cool an area, so, I bought this for $55…it's not worth $15. This is likely the only time I've written a bad review and I order hundreds of items a year. This is the worst thing I've ever bought blindly. It leaks, it's a plastic box with a fan in it…I can't say how well it would work, but, it's no replacement for an actual window AC, it's a terrible product and overpriced for what it is.

By Customer
Very Expensive:
Hurricane Freeze portable Air Conditioner is sold for $158 where as Personal Air conditioner are sold for less than $30.
False Advert:
It can only cover a small area. According to the reviews made by customer, Hurricane do not work as claimed and the battery do not last for long.
Pros Of The Air Conditioner:
Portability:
The A.C can be carried about. With the size, it can fit in a small area.
Instruction Manual:
The air conditioner comes with instruction manual on how it the A.C is being used.
Conclusion:
Hurricane freeze air condition have poor trust score and it's not worth your money. With the size, Customers should not have high expectations. Still want to buy portable air condition? Ontel Arctic can be recommended.