Do you want to buy Glam Hair Removal from Glamnyskin.com? Are you wondering if this product is worth your money? This review is an eye opener for you to make the right decision.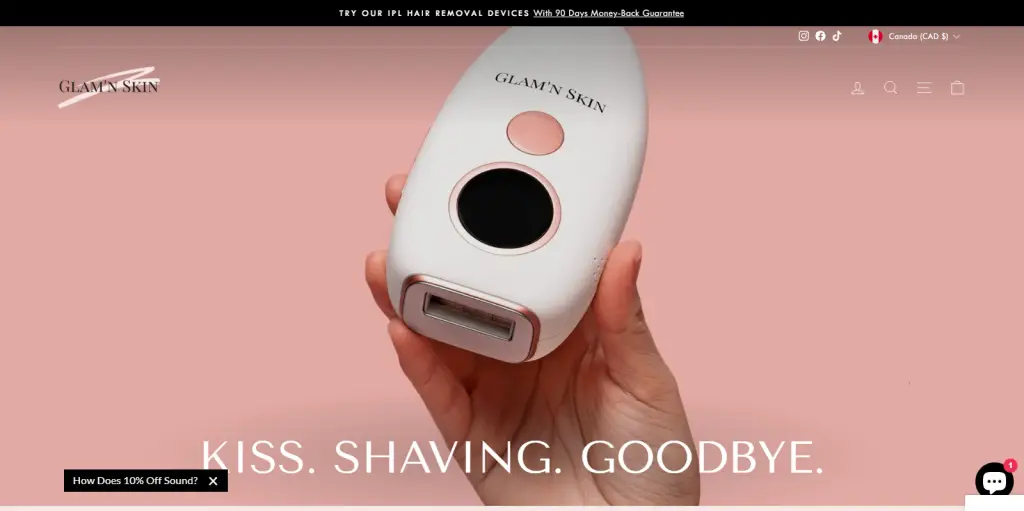 Glam Hair Removal Handset: What Is It?
The Glam Hair Removal claims to be a crystal hair eraser that that claims to remove hair with ease. The device can be used at the comfort of your home and on any body part with little or no pain. The Glam Hair Removal device has five intensity settings and a handy skin tone safety chart. According to the website, Glam Hair Removal say goodbye to painful and expensive salon treatments.
This hair removal seem effective right? Read to know more about Glam Hair Removal.
Specification Of Glam Hair Removal:
Energy output is 6-15J/cm2
Voltage; 100-240v
Power: 48 watt
Flashes: 900,000
Lamp Tube: Xenon Quartz Tube
How Do To Use Glam Hair Removal:
First, clean and completely shave the area you will be treating. Dry thoroughly.
Connect the power adapter, and the screen of the machine will display the word "OFF"
Hold down the power button for 1.5s to turn the device on. It will automatically start on intensity one. Press the power button to increase or decrease the intensity, 1-2-3-4-5-4-3-2-1, and cycle successively.
If the display content changes from "flashing" to "not flashing" it means that the IPL device is ready. (the first flash is bright, and the eyes may not adapt to it. It is advised to wear glasses to reduce the discomfort of the flash on the eyes).
Features Of Glam Hair Removal Include:
It Used IPL technology to stop the hair growth
Visible decrease in hair growth after 3-4 weeks
The hair removal process is painless
It can be used for all part of the body including your face.
What Your Get After Placing Order Includes:
User Manual
Razor
Eye Protection
USB Cable
IPL Laser Hair Removal
Does This Hair Removal Really Work?
Base on our research, This Hair removal has both positive and negative reviews and as a result we can't say for sure if its really worth your money. Buyers are advised to make proper research before buying.
Below are reviews by customers-
Product doesn't work & shipped to wrong country.

Save your money, I bought this as a lark, knowing the probability of this thing working as advertised was slim to none. IPL "Laser" looks like a halogen work light bulb. I have done multiple treatments to multiple areas, arms, face, back, chest legs etc on different settings with ZERO results.

The product was shipped to the US, not Canada resulting in a delivery delay.

All in all very dissapointed, can't return for refund as shipping back to China is more than I paid for the unit.

By Lee Gregory
I love the Glam'n Skin microdermabrasion kit. My skin feels smoother, and I can see and feel the difference.

By Nour H.
Conclusion:
From our findings, Glam Hair Removal Handset has 3.0 star rating on Trustpilot and is being advertised to be very effective, Unfortunately, We can't vouch for its authenticity. However, It can not be recommended by us. Just like products like Hurricane. Gogo AC, Bionic Spot Light, Peptiva. Customers are advised to make thorough research before placing order. Have you used this products or similar product? You can please share your experience with us on the comment section.