Do you want to buy Eco Warm Personalized Heater? Are you wondering if this product is worth your money? This review is an eye opener for you to make the right decision.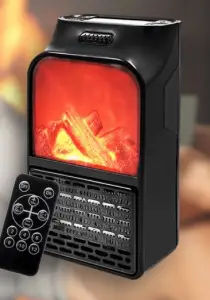 Eco Warm Heater: What Is It?
Eco warm personal heater claims to make your space warm and toasty in seconds. With convection ceramic heating technology, it uses less power, making it more energy-efficient than other heating solutions. With this cost-saving heater, you can quickly turn your desk or bed from cold and frigid to warm and cozy.
According its official website, It is advertised that with Eco Warm, you can feel the warm air instantly blowing in your direction. Within minutes you'll be surrounded by pleasant warmth and will be able to comfortably relax.
This ceramic heater seems effective right? Read to know more about Eco Warm Personalized Heater.
Features Of Eco Warm Personalized Heater:
Has LED Display Controller:
Create a warm and cozy environment around you with EcoWarm. With an LED display controller you can set the desired temperature, timer, and even heating speed!
Has Ceramic Heating Technology:
Feel the warm air flowing just in seconds and save on electricity. This is possible because of ceramic heating technology. It heats faster and consumes less energy than regular heaters.
It is Portable & Convenient:
Bring it with you wherever you need some warmth. EcoWarm is portable and super convenient. Not only it's easy to operate but also it has a remote control.
How To Use:
EcoWarm can quickly and easily heat up the temperature of any room in just a few minutes. It is equipped with 1-12 hour timers and fully adjustable heat settings that can be tailored to your specific needs.
EcoWarm will turn off automatically after six hours of operation, or when it reaches an internal temperature of 122F, so you never need to worry about forgetting to turn off the unit, or it overheating.
Other Claimed Features Include:
Compactable
Safe
Energy Saving
Auto Power Off
Time Function
Quiet
Specification:
Price-$49.99
LED Display Controller
Pros:
Rapid, targeted, personalized heating
Convection ceramic heating technology
Energy-efficient, cost-saving heating solution
Cons:
Very Small In Size
No Customers Reviews Online
Does Eco Warm Portable Heater Really Work?
Base on our research, Eco warm heater is too small and can only heat up a small area.
Conclusion:
From our findings, Eco Warm ceramic heater may not as effective as advertised and there are no customers reviews online. We are not satisfied and as a result, We can't vouch for its authenticity Just like other products like Hurricane, Whirlpool washing machine. Have used this product or similar product? Please do well to share your experience with us in the comment section.