Do you feel uncomfortable with the temperature in your home? Do you want to buy Kinetic mini size heating device? Are you wondering if this product is worth your money? This review is an eye opener for you to make the right decision.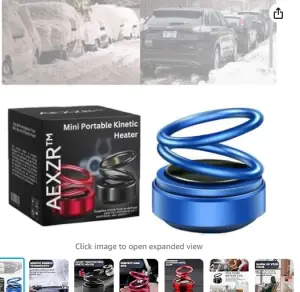 Kinetic Heater: What Is It?
The Kinetic Mini Portable kinetic Heater claims to make your room warm and cozy with less heating bills! and makes your vehicle never to get cold again. Unfortunately, it's a mere deceptive advertisement to lure buyers. This mini device looks to small to be as effective as it is being advertised on its official page. It is sold on Amazon and Flipkart.
Kinetic Portable Heater also claims to be a cutting-edge device that is purpose-built to tackle the difficulties brought on by severe cold weather. it acts as a proactive defense, ensuring your home stays warm and even preventing the accumulation of snow on the exteriors of your vehicles.
This portable heater seems effective right? Read to know more about Kinetic.
Claimed Benefit:
Mini Portable Kinetic Heater is not Only Aesthetically Pleasing, But Also Operates On Solar Power, Offering You A Cost-Effective Solution that will not Lead To An Increase In Your Monthly Electric Bills. So, You Can Enjoy The Benefits Of Warmth Without Worrying About The Financial Impact On Your Energy Expenses!
Specification:
Product: MIQIKO Portable Kinetic Molecular Heater
Applicable scenes: vehicles, living room, bathroom, etc.
Size: 10*6cm/3.93*2.36inch
Color: Black / Blue / Red / Gray
Testing:
Kinetic portable heater is just a car diffuser and i. In another words a car air freshener is placed on a car cup holder. All it claims to do is a not true. It is a  bait-and-switch scam deceiving buyers into paying inflated prices for near-worthless device.
Does This Portable Heater Really Work?
Base on our research, Kinetic portable heater does not just like Ecobuddy and Keilini heater. Consumers are advised to take extreme caution regarding these devices and their dubious claims.
Reasons Why You Should Not Buy This Device:
It's just a car air freshener
No positive customer review
Poor customer support as they is delay in replying customers and when they reply, they are unable to solve customer's problem
Fake Advert
Many negative reviews online
Conclusion:
From our findings, Kinetic portable heater has no complicated setup or maintenance and is being advertised to be very effective but has has so many negative reviews online. We are not satisfied with our findings and as a result, It can not be recommended by us. Just like other products like Hurricane, Whirlpool washing machine. Have used this product or similar product? Please do well to share your experience with us in the comment section.