Do you feel uncomfortable with the temperature in your home? Do you want to buy Life mini size heating device? Are you wondering if this product is worth your money? This review is an eye opener for you to make the right decision.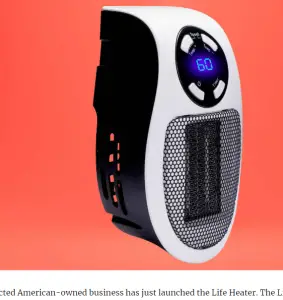 Life Mini Heater: What Is It?
The Life Heater is portable and heats a room while reducing energy costs by 30%, and is made with advanced safety features. The Life Heater is a convection heater with built-in overheating protection and automatically shuts down if the temperature becomes too hot using the internal heat sensors. The heater can be operated anywhere, home or workplace, without being set up.
This portable heater seems effective right? Read to know more about Life mini heater.
Features Of This Portable Heater?
A stylish appearance that blends in with all furnishings in the house and a simple wall plug compatible with various 220V plugs.
Curved angles and polished edges with nickel plating
The available colors are white, pale green, and blue.
 Immediate heating
Reduced energy consumption by up to 20% compared to heaters that provide less heat
How Much Is Life Heater Sold?
One Life Heater $59.99 + $8.95 Shipping
Two Life Heaters $109.98 + $8.95 Shipping
Three Life Heaters $155.97 + $8.95 Shipping
How To Use This Heater:
The heater is connected to a standard wall outlet and turned on; the device's controls are easy to use and offer straightforward control.
Reasons Why You Should Not Buy This Device:
Fake Reviews Online
Fake Advert
Many negative reviews online
It's Pricey
Conclusion:
From our findings, Life heater is simply a scam and not authentic. Heaters like Ecoheat, Kinetic, Ecobuddy, etc. are total trash. Read our complete product reviews to know more about scam products. Did you buy this product? Or have ordered for a similar product? Please do well to share your experience with us in the comment section.