Do you want to buy Neabot Pet Vacuum Grooming Kit? Are you wondering if this product is worth your money? This review is an eye opener for you to make the right decision.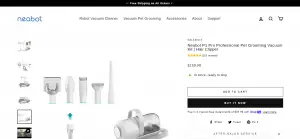 What Is Neabot Pet Grooming Vacuum Kit?
The Neabot pet grooming vacuum kit claims to be P1 Pro grooming kit with vacuum function collects 99% of pet hair into a vacuum container while trimming and brushing hair, which can keep your home clean, and there's no more tangled hair and no more piles of fur spreading all over the house.
Benefit/Features Of Neabot Grooming Vacum For Pet:
Groom Your Pet:
Brush and build bonds with your pet, Your pet will learn that it's okay to allow his body and feet to be handled; it's very relaxing and satisfying to spend more time with your dog while helping him look and feel his best.
No More Mess:
The hair you collect goes straight into the bin, no more messy home, No Mess, no Fuss! With the easy-to-use P1 Pro, there's no more tangled hair and no more piles of fur spreading all over the house.
Trim Hair At Its Best:
The trimming tool will easily remove the excess fur that might be making them uncomfortable in high temperature. And of course, the vacuum cleaner tidies as it goes, with nothing to clean up later.
Captures 99% Loose Hair:
With its super strong suction of up to 9000Pa, P1 can easily remove 99% biowastes, including dust, mites, hair, fur, allergens, and more, collects 99% of pet hair into a vacuum container while trimming and brushing hair.
Weekly De-Shed:
With de-shedding, it draws out natural oils produced by dog's skin and fur, which prevents painful matting and hot spots.
Confortable:
As matting and hot spots are now all taken care of, you'll know your pet is more comfortable and your family is clear of pet fur.
Easily Remove Heavy Undercoat:
The brush itself has thin metal bristles which is designed to brush out all the loose hair, thus greatly soothing your pet. It works particularly well on medium to long-haired dogs and cats.
Quick Release Button:
The button on the Neabot P1 Pro brush is an easy-to-push wide bar so it's simple to press and release the hair from the brush.
Brush Dirt Away:
Coming back home from a nice walk? Take a moment to clean your hands before making a mess at home.
Keep Spot Vacuumed:
If you have an active pet or one who spends a lot of time on your sofa, you can tidy up at any time with the nozzle simultaneously functioning as a vacuum cleaner.
Things We Don't Like About The Product:
Poor Quality:
A customer complained that the hose has poor quality as it lasted only 39 minutes. Below is the review-
Works great… BUT… the hose lasted less than 39 minutes and there was a huge tear in it. It worked easily on my Goldendoodle… but my poor rating is based on quality of the hose. Blade also fell off/hot stuck in fur a few times while grooming

By Linda C
Small In Size:
A customer complained that Neabot grooming vacuum is small in size.
I have a very furry 110lb Goldendoodle that I cut and a wiggle, squiggly 70lb Pyredoodle that I'm about to start grooming so when I saw a machine that cut and vacuumed I was so excited and ordered it that day. I had high hopes for this little bitty machine.. When I opened the package the first thing I noticed was how small it was. The tank that the hair gets vacuumed into is literally as long as my palm and that's it. I was still game to see how it worked though! It was super easy to put together, but as soon as I started cutting it got jammed up in my doodles hair. Doodles have a crazy thick coat and these clippers just don't have the power needed to cut through it. After pushing, and pushing through his hair the tank was filled up in literally less than a minute. I ended up emptying the tank 9x in 7 minutes… Unfortunately that's just not doable for me on a full time grooming basis. Back to my Andis clippers and shop vac I go. Maybe if you have a dog 10lbs and under, or a cat this might work for you, but I'd advise against it for medium and big dogs

By Carrie W
Does Neabot Pet Grooming Vacuum kit Really Work?
Base on our research and reviews made by customers who have used the book, It clearly shows that it does not work as it claims. It is not as effective as it was advertised on the official website.
Conclusion:
This Neabot Hair Chipper has good trust score and 4.6 star rating on Amazon. However, It can not be recommended by us. Just like products like Hurricane. Gogo AC, Bionic Spot Light, Peptiva. Customers are advised to make thorough research before placing order. Have you used this Pet grooming vacuum kit or similar product? You can please share your experience with us on the comment section.