Are you looking for Shampoo and Conditioner for long hair? Did you come across Hair Burst Shampoo and Conditioner? Are you wondering if this product is worth your money? This review is an eye opener for you to make the right decision.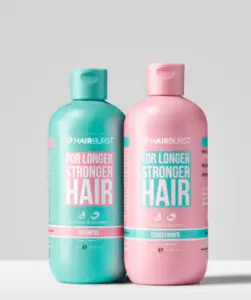 Hair Burst: What Is It?
Hair Burst Shampoo and Conditioner claims to be enriched with protein to strengthen and repair weak hair. It breaks less easily and grows longer. This ingredient gives shine and visibly thicker hair.
Did you know that Hairburst Shampoo contains 9 different amino acids? Amino acids can also strengthen and moisturize hair due to their hydrous nature. It helps damaged hair improve its texture and strength. This leads to straight hair that is less likely to break.
Our formula helps retain water and moisturizes hair. It is able to penetrate the top layer and penetrate the hair shaft where it aids in moisture retention and provides volume.
These hair care seems nice right? Read to know more about Hair Burst shampoo and conditioner.
Ingredients Includes:
HYDROLYZED WHEAT PROTEIN 
A low molecular weight natural ingredient derived from wheat germ that can easily penetrate the hair shaft and be absorbed by the inner fibers of the hair. It has the ability to attract and retain moisture in the hair, giving hair extra body and lift. 
AMINO ACIDS 
Amino acids strengthen and moisturize the hair due to their water-attracting power. They help improve the surface and strength of damaged hair. This results in smoother strands that are less likely to break. 
PANTHENOL 
Vitamin B5 and a humectant helps retain water and keep hair strands hydrated. It is able to penetrate through the skin into the hair shaft where it aids in moisture retention and provides volume.
Benefits:
Visibly thicker and healthier hair.
Increases the strength of your hair and reduces breakage.
Improves gloss, density, manageability and softness.
Moisturizing and suitable for daily use.
How To Use:
Apply shampoo to wet hair.
It's the perfect time for a head massage.
Work the product into the scalp for 2-3 minutes.
This will improve blood flow to the area for healthy hair.
Rinse well & follow with Hairburst conditioner.
Using your fingertips, work the conditioner through the ends of your hair.
Leave in for a few minutes while it works its magic.
Rinse thoroughly, say hello to happy hair!
Specifications:
Form-Lotion
Quantity-350ml
Scent-Coconut
Paraben Free
Hair Type- Thin
Price-32Euro on its official website-de.hairburst.com
Testing:
Hair Burst has a pleasant scent and looks sleek. Base on our research, We are satisfied by this Shampoo and Conditioner. Many customers were satisfied by the product and only few persons said it did not work them.
Things We Like:
Made from premium and natural ingredients
Paraben free
Silicon free
Things We Don't Like:
May not work for all hair type
Too Small
Does This Shampoo And Conditioner Really Work?
Base on our research, Hair burst shampoo and conditioner has positive reviews by customers we are satisfied by this product. Although there are some customers saying that the products did not work for them.
Below are reviews by customers-
I love this shampoo and condirioner. I have Hypothyroidism and Alopecia Areata. Because of rhose things, my hair in very thin and fine. I usually have to wash my hair almost daily because if my scalp gets oily at all it emediately shows in my thin hair. This shampoo and conditioner have changed everything!!! Now I can go 3 days without washing my hair and my hair looks light and clean. There is a pleasant light scent. It does not dry out my hair. I have also noticed increased hair growth in only a few weeks.

By Neff Fam
I don't usually write bad reviews but this time I had to!! The scents were so light you could hardly smell them. As for the performance of the product was awful if I wouldn't of had a separate leave in conditioner I would of never gotten a brush or wide tooth comb through it. My hair never once turned out like I liked it too…then I found a set of my Loreal shampoo and conditioner and my hair turned out wonderfully.. like I like it too!!
I'm very picky àbout my hair and I will never purchase this shampoo and conditioner again!!!

By Brenda Kunce
Conclusion:
From our findings, Hair Burst has 4 out of 5 star rating on Amazon and is being advertised to be very effective, Unfortunately, We can't vouch for its authenticity. Although, We are satisfied by out findings But, It can not be recommended by us. Just like products like Hurricane, Whirlpool washing machine. Have used this product or similar product? Please do well to share your experience with us in the comment section.