Are you having hair loss or Baldness? Looking for a solution to healthy hair? Did you come across Hair Fortin? Are you wondering if this product is worth your money? This review is an eye opener for you to make the right decision.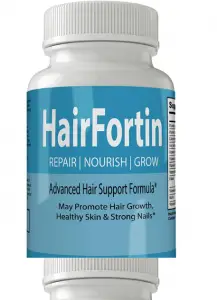 Hair Fortin: What Is It?
HairFortin is a hair regrowth solution for those facing baldness. Its very common to suffer from hair loss that results in early baldness.
Hair Fortin is made from all-natural ingredients that have no harmful side effects on your body. All of those ingredients are rare, potent, and very effective to control hair fall naturally
These hair care seems nice right? Read to know more about Hair Fortin.
Benefits Of Hair Fortin Advanced Hair Solution Formula:
The manufacturers have only used organic ingredients in the composition of the supplement.
This hair restoration solution with the combination of all-natural blend unclogs blocked hair follicles and improves hair regrowth.
You will find logical building blocks that make you fill the scalp with thicker and head fuller hair.
This essential solution includes biotin for hair growth, clearer skin, and stronger nails in natural ways.
​The proven antioxidants in this formula rejuvenate the skin and stimulate the growth of hair and nourish the scalp from within.
Ingredients Includes:
Iron Ferrous Fumarate
​Biotin
Magnesium Oxide
Potassium gluconate
Horsetail extract
Specifications:
Form-Capsule
Age Range-Adult
Count- 60
Gluten free
Prices-Basic(1 Bottle)$69, Premium(6 Bottles & 2 Free Bonus) $294, Standard(3 Bottles & 1 Bonus)$177.
Testing:
Hair Fortin is a total scam! It does not work as advertised. Base on our research, We are not satisfied by this product. According to customers, There are no changes on their hairs or nails.
Things We Like:
60 Day Money Back Guarantee
Made From Natural Ingredients
No Side Effects
Things We Don't Like:
False Advert
Does Not Work
Does This Hair And Nail Growth Really Work?
Base on our research, Hair Fortin has positive and negative reviews by customers. Although we are not satisfied by this product.
Below are reviews by customers-
After using this continuous for about a month I do not see any change at all in my hair or nails . Really wanted this to work too

By Lisalisa38
I was really in hopes that this product would at least do something. Unfortunately, in the past few weeks that I have been using the product as described in the directions, I have seen no new areas of hair growth. The only thing I have noticed is that it makes my beard tougher to shave.

By Elenah&CraigH
Conclusion:
From our findings, Hair Fortin has 3.7 star rating on Amazon and is being advertised to be very effective, Unfortunately, We can't vouch for its authenticity. Although, We are not satisfied by our findings And as a result, It can not be recommended by us. Just like products like Hurricane, Whirlpool washing machine. Have used this product or similar product? Please do well to share your experience with us in the comment section.